"You cannot open a book without learning something."
-Confucius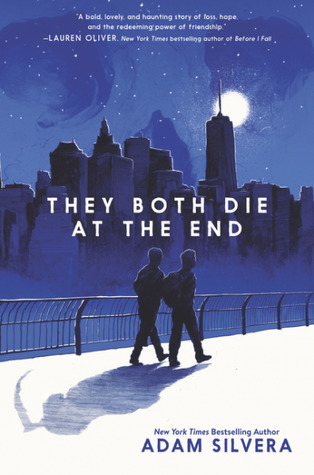 Hello there Bookers and Good Morning! In today's' post, I am going to be reviewing one of my most recent reads, They Both Die at the End by Adam Silvera. I finished this novel on February 6th as a buddy read.
What made me want to pick up this book, you ask? No, not the hype. Frankly, the cover and plot-line are what caught my attention the most. I am a sucker for death/mental illness books, and the fact that it is LGBTQ+ is a bonus.
»»————- ✼ ————-««
Summary:
   The story follows Mateo and Rufus who have never met up until they receive a phone call from Death Cast announcing that they will be meeting their death in 24 hours. They come across an app called Last Friend where they find each other and decide to be just that, each other's last friend. The novel carries the life of these two before and after their deaths.
»»————- ✼ ————-««
Review:
   On Goodreads, I rated 4 out of 5 stars, but the better rating would be a 3.75. Yes. A 3.75. My reasoning? Well, if you may ask, I feel as if this book is too good to be under a 3.5, but also had too many ideas that I wasn't fond of and therefore could not be rated above a 4.0. I met halfway with this one. My thoughts are scrambled with this book, so I've decided I'll make a Pros and Cons instead of a well thought out and intellectual review. Sweet (maybe not so much) and to the point.
»»————- ✼ ————-««
(SOME MINOR SPOILERS AHEAD)
Now, for that comparison…
Pros:
The whole receive a phone call 24 hours before you die concept is very intriguing to me. I believe Adam Silvera did a great job with carrying that idea throughout the story.
You not only see the story through the eyes of Mateo and Rufus but a whole bunch of other characters as well. It makes you see the story in all different perspectives in a non-confusing manner.
The reader receives good, but not overwhelming background information for the main characters.
The story was well to the point and short. (Pro and Con)
It made you want to keep reading. The fact that you know the two characters are going to die and there is nothing you can do about it is so heart wrenching!
Cons:
The story as a whole was rather vague and too short to the point. It was a good page length, but the story could have had more substance. The description of the settings were also not well described for the most part. You almost had to guess where the characters were and how their surroundings looked like.
Maybe I wasn't paying attention at first, but I was so lost the first couple of chapters that the person I was buddy reading with actually had to explain to me what was going on!
I had a little trouble finding character connections. I connected with a few characters on some things, but for the most part, none were very relatable in my case.
The story was not realistic. This is one of those things that made me rate a little lower than most. I understand that this is just a book and not everything has to be realistic blah blah blah, but it is also a YA contemporary, so in my understanding… shouldn't it be a little more relatable and sensible than other genres?
Everything in this story just kind of happened. I'm not sure how to explain it, but something would just happen and it would leave you like "Oh, Okay…"
The death of one of the characters was so underdramatic that you could almost forget they ever died.
The ending! What in the world! I am sorry, but I am against how this story ended. No, not because the way it ended wasn't how I wanted, but because there was no closure. In fact, I'm not even sure how one of the characters died. It was unclear.
The romance between Mateo and Rufus is one good example of this novel being unrealistic and unclear for that matter. It just spontaneously happened with almost no warning whatsoever. My buddy and I actually went back looking for hints in which we found very few and hazy ones. This is where this review gets even more controversial. Like I mentioned at the beginning of this post, I LOVE LGBTQ+ books. I am an active supporter of the community and always will be, BUT, with this story, I not only did not feel a connection at all between Mateo and Rufus, but I feel as if it was not meant to be, to begin with. From the beginning, I believed what they had, or were creating was a strong friendship, maybe even bromance, but barely even that. I'm not sure if their friendship even fully developed before POOF, they are kissing. I never knew coming into this book that it was an LGBTQ+ so it surprised me even more- and not necessarily in a bad way at all.
»»————- ✼ ————-««
   With all that being said, I never intended it to seem like I was bashing on this book or hating on its content. I just simply disagreed with it in many ways and felt the need to express that publically. That is not to say that I did not enjoy reading this. I am very glad that my partner and I decided to choose this book for our buddy-read. Most importantly, I obtained a very meaningful message from this story, and that is:
ʟɪᴠᴇ ᴡʜɪʟᴇ ʏᴏᴜ ᴄᴀɴ. ʟɪғᴇ ɪs ɴᴏᴛ ᴘᴇʀғᴇᴄᴛ ᴀɴᴅ ʏᴏᴜ ᴄᴀɴɴᴏᴛ ᴄᴏɴᴛʀᴏʟ ʜᴏᴡ ᴏʀ ᴡʜᴇɴ ʏᴏᴜ ᴅɪᴇ, ʙᴜᴛ ʏᴏᴜ ᴄᴀɴ ᴄᴏɴᴛʀᴏʟ ᴡʜᴀᴛ ʏᴏᴜ ʜᴀᴠᴇ ɴᴏᴡ. ᴛʜᴇ ʟɪғᴇ ᴀɴᴅ ᴛɪᴍᴇ ʏᴏᴜ ʜᴀᴠᴇ ɴᴏᴡ. sᴏ sᴘᴇɴᴅ ɪᴛ ᴡɪsᴇʟʏ. ʙʀᴀɴᴄʜ ᴏᴜᴛ, ᴇxᴘʟᴏʀᴇ, ɢᴇᴛ ᴏᴜᴛ ᴏғ ʏᴏᴜʀ ᴄᴏᴍғᴏʀᴛ ᴢᴏɴᴇ. ʏᴏᴜʀ ᴄᴏᴜᴄʜ ᴡɪʟʟ ᴀʟᴡᴀʏs ʙᴇ ᴛʜᴇʀᴇ ᴡᴀɪᴛɪɴɢ, ʙᴜᴛ ᴛɪᴍᴇ ᴡᴏɴ'ᴛ ʙᴇ.
Thank you so much for reading.
Stay Informal,
Aishah